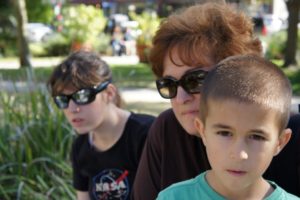 The Special Parent is written by me, Kyron (pronounced Kieran) the mom of 2 special need kids. My daughter, Katherine, is now 26 and has  physical, intellectual, and mental health disabilities . She lives in a behavioral focused group home. My youngest is on the autism spectrum, (what used to be diagnosed as Aspergers). He also has diagnoses of ADHD and an anxiety disorder. We made the choice to homeschool him, at least in part because of his exceptionalities. This would be impossible without my husband. He makes this journey easier with his love and support.
My goal for The Special Parent is to take experiences from 26 years of parenting a special needs kid and turn it into a resource for you.  I'll be sharing roadblocks and pitfalls I've dealt with parenting a special needs kid. I'll give you insight into how I handled things and what I learned along the way. I hope these experiences will help you when dealing with similar issues, and make you feel less alone. In addition, I'll be gathering media and interviewing other individuals who can value add to your journey as a special needs parent. I'll comment on current events as they relate to our children.
I look forward to interacting with you  so we can cover topics that are important to you or that you're currently struggling with. Together we will build a supportive environment where there's no stupid question and empathy abounds. I hope you'll join us.
Related Posts
Latest Posts

I have suffered from depression on and off for years…usually…

Early childhood intervention is what changed my daughter Katherine's life.…
Popular Posts